The last delivery of the humanitarian operation set up by Galp and its Foundation was carried out this month, in order to help the victims of the Idai cyclone, one of the strongest tropical phenomena which recently devastated several areas in the centre of Mozambique.
The "Let's help Mozambique" campaign, comprising the gathering of food and basic necessities (reaching around four tons from all locations of the Galp World) and a donation of 150 000 euros made by the Galp Foundation to the Mozambique Red Cross, was the humanitarian response consolidated this month by this last action in Tete, Mutarara district.
This action allowed the donation, in total, of over 8 tons of food, 2 thousand blankets, 2 thousand mosquito nets, 166 cooking kits, over 12 000 packets of seeds and over 5 tons of farming equipment such as watering cans, hoes and machetes, as a response to the needs of around 1000 families. This support will allow that community to regain their farming plots which were destroyed by the floods brought by the Idai. These small agricultural plots are the main livelihood of most of the community's families, who depend on agriculture to make a living.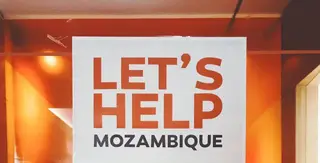 Most recently, Galp signed a partnership deal with the Support Fund to the Populations Affected by the passage of the Idai and Kenneth cyclones in Mozambique. The deal was signed in Lisbon, in the Camões Institute, along with the remaining entities who financially contribute to the Fund.
The Support Fund for the Recovery and Reconstruction of Mozambique, announced by the Portuguese Prime Minister, António Costa in the IV Portugal-Mozambique Summit, which took place this month during the official visit of the President of the Republic, Filipe Jacinto Nyusi, is partially funded by the Portuguese National Budget and by donations from public and private entities. It aims to recover and rebuild the regions affected by the cyclones. Over the next 3 years, the Fund will finance projects from NGOs in the fields of health, education, food safety, among others.