The conditions imposed by the pandemic forced Planetiers World Gathering to adopt a hybrid model, which enabled participants to attend the biggest sustainability event in the world either via the internet or in person at the Altice Arena in Lisbon. Over the course of two days, the international conference strove to bring together experts from all over the world to find joint long-term solutions to combat climate change and to analyse social inequalities.

Food waste, pollution, loss of biodiversity and the impact of Covid-19 on the environment were some of the additional topics that brought together around 10,000 virtual participants, who had the opportunity to access debates and panels on sustainable innovation and entrepreneurship. This was the first step in a series of events geared to the issue with Lisbon as the world stage, the organisers confirmed. "We want this to be the first of many Planetiers World Gatherings and we hope that the result of this event will provide clear benefits for the future of all of us", declared Sérgio Ribeiro, the CEO and founder of Planetiers.
Upholding the commitment to sustainability undertaken "many years ago", Galp was invited to participate at the world conference in a debate dedicated to the topic The challenge of disseminating sustainability, at which Seat and McDonald's were also present. The session consisted of the speakers sharing projects created and executed by the three brands representing some of the most important sectors in the future of the planet - mobility, catering and energy.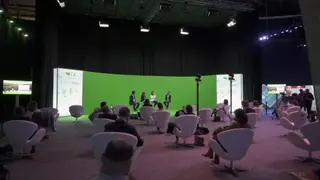 Increasingly, action for sustainability needs to be seen as a multidisciplinary approach involving different stakeholders, and an example of this is the interconnection between energy and mobility, an issue in which Galp has been investing heavily. Joana Garoupa, the company's marketing director, recalled the major investments "in infrastructure, increasing the number of charging stations and home solutions such as, for example, Wallbox Galp Electric", in addition to the provision of green energy to consumers.