The European statistics agency Eurostat recently published the data on CO2 emissions from fossil fuels in the European Union in 2018, which are extremely encouraging for our country, which registered the biggest reduction in the EU in the year: 9.0%. Bulgaria registered the second biggest drop in CO2 emissions (- 8.1%), followed by Ireland (- 6.8%), Germany (- 5.4%), the Netherlands (- 4.6%) and Croatia (- 4.3%). On the other side of the coin are eight Member States whose emissions increased: Latvia (8.5%), Malta (6.7%), Luxembourg (3.7%), Poland (3.5%), Slovakia (2.4%), Finland (1.9%) and Lithuania (0.6%).
The Eurostat document, which took into account all the figures registered in the Member States, also points to an average reduction of 2.5% in carbon dioxide emissions, which account for around 80% of the total greenhouse gases in the EU.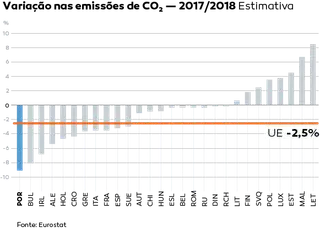 The Portuguese indicators are extremely positive at a time when the public consultation on the National Energy and Climate Plan (PNEC) has been launched. This demanding document, drawn up by the Portuguese government, sets forth the goals to be met by Portugal by 2030, whereby 80% of the energy consumed in the country on this date must come from renewable sources, in addition to a reduction of between 45% and 55% in greenhouse gas emissions in relation to the levels registered in Portugal in 2005, the year in which there was a peak in the emission of these gases.
The following link will enable you, until 05 June, to contribute to drawing up a document that will be the main tool in Portugal´s energy and climate policy between 2021 and 2030: http://www.participa.pt/consulta.jsp?loadP=2585