"Despite the fact I´m known as a solar person, I don't think we should focus solely on technology, but on a mix that makes sense," is how Maria João Rodrigues, technical director at Lisboa E -Nova, Lisbon Municipal Energy and Environment Agency, begins her chat with Energiser. She defends the electrification of the economy in Portugal because, as she emphasises, "the country has natural resources that are specifically y adapted to the renewable production of this type of energy".
INVESTMENT IN SOLAR ENERGY ON THE RISE
Investment in the production of solar energy in Portugal still lags behind what has been achieved in the hydro and wind power sectors. As a means of promoting the growth of this area, the Portuguese government has had to create guarantee mechanisms for companies in order to obtain more favourable financing conditions with banks and other entities. An auction was held in mid-2019 for the definition of 24 solar energy production fields, registering 64 candidates. Demand exceeded supply by nine times and the average price of the electricity produced by the bidders was significantly lower than that specified by the Portuguese state.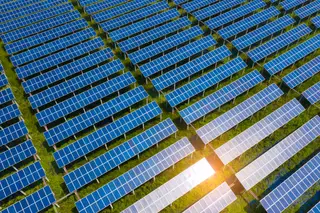 As a result, the price of electricity to the consumer could fall in the future. This is what Maria João Rodrigues expects, cautiously adding that "we are still a long way from achieving this, as it´s going to take many years for the market to stabilise". It should be pointed out that the Iberian Peninsula is relatively small within the European context, and only enhanced connections enabling energy to flow to and from Portugal and Spain will contribute to the existence of a large-scale, more competitive market. "This is what the European Union is striving to achieve," says the technical director of Lisbon E-Nova, but certain countries are still opposed to this.
OTHER CHALLENGES
The potential for the production of renewable energy in Portugal is not restricted to the hydro, wind and solar sectors. "There is also biomass, geothermal energy and low-enthalpy geothermal energy [editor´s note: low temperature], which can be used in cities, for example, in HVAC systems", underlines Maria João Rodrigues, who recently attended the Mobility and Energy Transition Conference at the Pavilion of Knowledge in Lisbon. Moreover, we still have the likely prospect of harnessing the energy of waves and tides. Or in other words, there are a considerable number of renewable sources with potential for exploitation in Portugal.

In addition to production, there are other challenges the Portuguese need to overcome in relation to consumption. People, companies and institutions are required to choose their electrical equipment with care, improving energy performance in buildings and creating smart traffic solutions, particularly in cities such as Lisbon and Porto. Furthermore, the waste people produce needs to be carefully segregated, something that is happening less and less and which, according to Maria João Rodrigues, is due to a lack of investment in education and communication. The nomination of Lisbon as the European Green Capital 2020 has led to the city investing more in these areas, according to the director of Lisboa E-Nova. After all, the promotion of change is not enough. This is a task that requires continuous effort and engagement, at least until it has been successfully implemented.