The idea that working from home would be unproductive for companies and employees was a common argument in the avoidance of distance working solutions. However, it took just two months for everything to change and for many entrepreneurs to realise that this is actually a useful and effective tool for their businesses. Transforming commuting time into additional rest, achieving a better balance between personal and professional life with a highly positive impact on personal satisfaction, and ensuring a focus on what is really essential in day-to-day business are some of the most important benefits, evident both for both organisations and employees.
Moreover, companies enjoy other additional benefits that are reflected in cost efficiency, in addition to "the right operational processes in the productivity of their personnel", as Vítor Antunes, managing director of Manpower in Portugal, points out. "The digital transformation process has been accelerated and, from now on, digital leaders capable of creating conditions for a culture of innovation and learning geared to the development of employees´ skills and continued customer guidance will take on a major role", he reinforces.
LESS COMMUTING
Even though the gradual lifting of confinement measures will see staff going back to their offices, many work processes will now be different. Distance working will play an increasingly important role in the labour market and will often be a complement to the duties carried out on corporate premises. Furthermore, meetings are likely to be the main example of change. In the past two months, thousands of meetings have been held online, with the help of a wide range of digital platforms, thereby ensuring the continuity of business and guaranteeing personnel productivity.
"People have seen that it works, that it saves time, and that we have even managed to be more productive", says Ricardo Costa, the CEO of the Bernardo da Costa Group, composed of seven companies from different areas such as electronic security, home automation, electrical installations, professional sound and video and training and consulting. Indeed, in light of this experience, he guarantees he will reduce his travel and commuting time by around 50%. "I used to fly around 80 to 90 times a year, often to meetings in Madrid or Barcelona. I won´t go so often now". Nevertheless, Ricardo Costa recognises the importance of maintaining personal relationships in business – conducted by and with people -, but he also acknowledges that the frequency of these face-to-face meetings can be significantly reduced. Corporate budgets, and the environment, will be grateful.
"People have seen that it works, that it saves time, and that we have even managed to be more productive"

Ricardo Costa was forced to ask around 90% of his group´s employees to work from home, with the exception of the warehouse team, whose duties have to be executed on the premises. Two months after this decision was made, he draws an extremely positive balance and guarantees that many people´s misconceptions and resistance to working from home have been dispelled. "People want to return to their office because they are fed up of being confined to their home, and not because this work experience didn´t work out", says the CEO. Preparations to wind down the isolation measures on a gradual basis from 11 May are being drawn up this week. "The return to work will be gradual and in shifts, so not everyone will be at the company at the same time; there will be restrictions in the use of common areas and distance working will be a priority whenever the job so allows and the person in question is happy to stay at home", he explains.
João Redol, the CEO of Neutroplast, an industrial company dedicated to the manufacture of plastic packaging for medicines, also saw his organisation's day-to-day routine change drastically. A third of the team was asked to work from home, with the remainder ensuring production didn´t come to a halt. To protect these workers, the CEO explains, each shift needed to be isolated and additional shifts created to ensure everyone's safety, while guaranteeing the company was able to meet the growing demand for products due to the increased need for hand sanitiser and medicines, the packaging of which it manufactures. The balance is positive and, João Redol assures us, many of the changes and adaptations implemented will be upheld. Working from home - which already existed - will now be a complementary reality to office work, particularly as a means of avoiding necessary travel.
LITTLE WILL BE AS IT WAS BEFORE
Can working from home now change our relationship with work for good? Vítor Antunes believes so. However, he warns, "companies also face the huge challenge of guaranteeing the present without neglecting the future". This means that the actions taken need to create the conditions for us to be more effective and efficient in the future, generating an increase in competitiveness through the promotion of employees´ key skills. "More than ever, we must foster a culture of learning and innovation that favours the country's performance, productivity and competitiveness", he adds.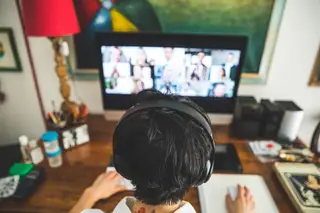 As far as the entrepreneurs that spoke to Energiser are concerned, there is also the economic challenge - one of the most important for the survival of organisations in the near future – the solution to which will depend on the joint efforts of the Government and the private sector. "Micro and small companies are already the worst affected and I fear they are not receiving the essential support for their survival", says Ricardo Costa, who also warns: "the closure of a large number of these companies will have extremely serious consequences for the economy and society". An opinion that is shared by João Redol, who fears the economy will be devastated in the medium term. "We´re going to have a major recession, together with a financial crisis similar to that of 2008". The solution, he believes, is to keep focusing on what is essential for business and for people to keep motivated and "to cultivate a sense of belonging to contribute to a greater good".