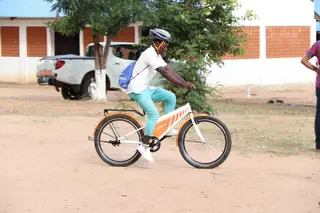 The opening of the school year in Mozambique included the launch of the project Educating for the Future on February the 5th in Nampula. The Galp Foundation and Galp have joined forces with Helpo in supporting the development of education in Mozambique, São Tomé and Príncipe and Portugal. Under this project, 103 merit scholarships were today awarded to students in the 8th grade of the Natoa high school. This initiative will allow students to complete the 1st cycle of Secondary Education in this school, which, to date, would have to be completed 20km away. Over the 3 years of the project, 675 merit scholarships will be awarded.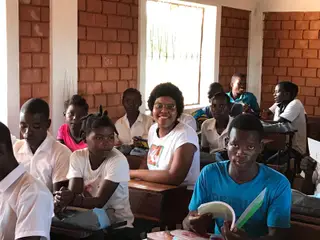 The long distances are one of the causes of school dropout in Mozambique, seeing as 90% of journeys are made on foot and can range from 1.5 to 40km. In response to this need, and taking into account that only 8% of Mozambicans have a bicycle, in partnership with Mozambikes, 57 bicycles were also distributed to students as an incentive to continue their academic course. The entire project includes the distribution of 171 bicycles.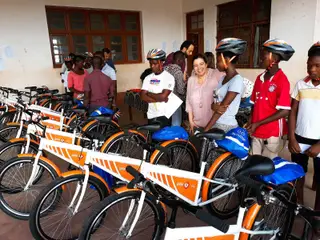 The project also includes, by 2021, the awarding of school performance prizes to 30 students (with a donation of clothes, school supplies, hygiene material and a bicycle), 10 health education sessions aimed at students' parents and the distribution of 50 collections of textbooks and support during the weekly snacks at the Natoa school. In the long term, there will be an intervention in 22 schools and 2 orphanages, support to 11421 students, 300 parents and 90 teachers, and in addition to the bicycles and merit scholarships, 3609 nutritional kits and 3000 blankets will also be delivered.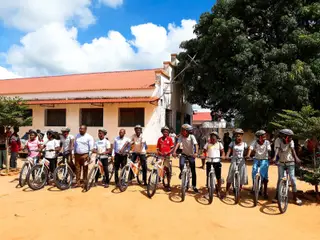 "For a quality, inclusive and competitive education" is the motto of the opening ceremonies of the school year, which took place in the Natoa Complete Primary School, where Helpo inaugurated 6 classrooms a year ago, allowing students to progress to secondary education . According to the Governor of Nampula, during the year of 2018, 175 new classrooms were built in the province, of which Helpo contributed with 12.
Helpo is an NGOD - Non-Governmental Organization for Development - working since 2008 in the areas of education and nutrition, providing support to the most vulnerable populations in countries with low human development index. Helpo reaches more than 19,000 children and finances its activities through the Program of Sponsorship of Children from a Distance, free donations and projects funded by international agencies and companies.
Join us and make a difference in a child's life here.