The team was made up of an unlikely mix, featuring different tastes and desires, but Beatriz Mendes, a student at the ATEC Training Academy (Palmela), managed to form, from among her colleagues, a successful group that got down to work immediately. In view of the challenge launched by CEiiA and the Galp Foundation within the scope of Energy Bootcamp 2019, designed for students to develop their initiatives and projects geared to meeting the Sustainable Development Goals (SDGs), the group of four students concluded that the answer to the challenge lay in solving a problem identified at their school: excessive energy expenditure, more specifically in relation to water used for irrigation.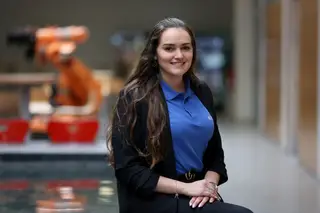 Ideas began to emerge and, with the help of the teachers, they soon devised a device for the reuse of this water through the generation of electrical energy, thereby increasing energy efficiency. This gave rise to the prototype, which they named "Green Water Solutions" and submitted to the competition, and which would be elected the winner in the Switch Up category. "It was a source of great pride to us, the teachers, ATEC and our parents, as well as a major victory for which we had worked so hard", confesses the 19-year-old student. Now, the dream is to implement the product throughout the community, or in other words, to market it. "We want to be young entrepreneurs," she adds.
FROM A MODEL TO REALITY
The award has enabled this team of young people and teachers to spend the last eight months working on the development of the model they created - the product of which, in the meantime, has become a reality and is already "pumping", or in other words, is in the final stage of installation at the school and is being replicated at a social solidarity institution geared to supporting young people - to which an internship with the CEiiA Engineering Centre technical team, in Porto, made a significant contribution. Moreover, the financing made it possible to set up and equip a facility known as the Galp Foundation Laboratory, opened this month, with tools and new technologies where students from ATEC and other institutions can work on their projects. "This laboratory is essential to our strategy for developing skills that will prepare young people for the technological evolution we are undergoing", concludes João Carlos Costa, the managing director of this training academy, which is focused above all on technical courses.