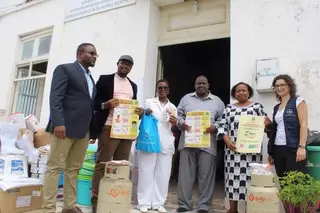 Galp and its Foundation, along with Helpo, have been working with the communities in supporting and preventing the pandemic through the distribution of materials for health technicians, hygiene kits, individual protection materials and information and awareness-raising actions.
In Nampula, the action had an impact in 280 orphan children from 10 Shelter Centres, not only through hygiene demonstrations presented by the centres' workers, but also through the distribution of soap, bleach, buckets with taps, masks and disposable gloves.
Galp Mozambique's volunteer Rúben Cossa tells us that, last week, Galp also made its contribution to the district health services of the City of the Island of Mozambique and Lumbo:
"Given that Galp's will to help Institutions in need knows no limits, yesterday (02/04/2020), in another joint Galp-Helpo action, (…) the first lot of hygiene material for the prevention of COVID-19 was delivered. (...) The delivery of this material was attended by the District Government, namely His Excellency, the Administrator of the Island of Mozambique, the President of the Municipal Council and the District's Directorate for Health. It is important to mention that Galp is the first company to support the health sector in the Nampula province, as stated by the Health Director."
In addition to the aforementioned hygiene material lot, comprised of 2000 examination gloves, 2000 surgical gloves, 400 masks, 500 disposable aprons, 1000 caps, 50 pairs of rubber boots, 20 buckets, 20 basins and 100 bars of soap, Galp also supplied 6 infra-red thermometers and 5 bottles of gas for the operation of the health unit's kitchens.
In Cabo Delgado, a province which already has several suspected cases and one infected person, Galp is partnering with Children Shelter Centres, managed by the Provincial Directorate for Gender, Children and Social Action, also to distribute hygiene kits and individual protection. According to Rúben Cossa, the distribution of materials was attended by the District's Director for Gender, Children and Social Action, Dr. Maria Isabel Raimundo.
Lastly, over the next few days, Galp and Helpo will offer their contribution to the fight against the pandemic, supporting health units and the beneficiaries of the Nutritional Rehabilitation Programme in the province of Manica. Individual protection, cleaning and disinfection material will be distributed among health technicians.
This aid to Mozambique, provided together with Helpo, will reach over 70 thousand people.