Ilda Gomes Rosa has been giving Master's degree classes on Animal Behaviour and Welfare at the University of Lisbon School of Veterinary Medicine since 1993. She began administering appointments in this specialty after she was unable to find help in Portugal to deal with behavioural problems in two female dogs she used to have. Nowadays, she specialises in behavioural issues, mainly in cats and dogs, but also in exotic domestic animals. "I realised this area had so much in common with me, where I could constantly deal with animals that I love and that enabled me to learn so much about the topic", she explains.
As far as this specialist is concerned, the help cats and dogs provide us with at a time like this, when we are confined to our homes, is natural. This is particularly the case in small families, where their company can help enhance both the emotional and physical health of the members of the household.
However, people working from home should take care, as animals are animals and behave as such. Ilda Rosa cites a personal story as an example, where one of her cats walked over her computer keyboard during a videoconference, which wasn't really appreciated by those on the other end.
Affection helps enhance an animal's emotional state and an increased number of walks can help improve a dog's physical condition, as is the case of playing more games with cats.
However, the veterinarian warns of the need not to spend too much time with animals at a time like this. When everything returns to normal and people leave home to go to work, to take their children to and fro and to enjoy their free time, cats and dogs may get stressed out, "particularly if the 'weaning' process is not done gradually", she warns.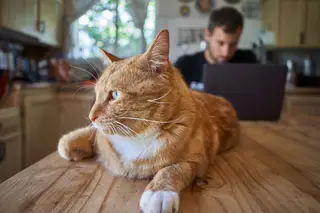 In order to prevent any excessive anxiety that may arise and become acute due to being separated, Ilda Rosa defends the need to create areas in houses where animals can sleep away from their owners. You should also work in places away from where they spend most of their time so as not to be with them for too long. Moreover, you need to stick to the usual rules in relation to feeding and going out on the street at the scheduled times. "It's wrong to feed animals when we're eating", she explains, adding that "a lot of this type of behaviour could easily be prevented if we just let them be animals, without expecting them to be more than they actually are".