The company was founded by Djalmo Gomes and Luís Lucas in 2017 and has become a major talking point both in Portugal and abroad in just two years. All due to the innovative idea that combines sustainability, connectivity and sharing. The cars, 100% electric and with a range of 70 to 80 kilometres, enable tourists to tour the city on a self-drive basis, at their own pace, and pursuant to their preferences. Moreover, users can take advantage of free Internet, preset GPS tours and tips provided by the car´s virtual assistant system, ranging from the city´s main attractions and sightseeing spots to bars and restaurants, in addition to local lifestyle. The icing on the cake, for people who enjoy sharing their holidays and experiences, is the camera installed in the vehicle, which streams live to the social networks.

In the opinion of Djalmo Gomes, it was the innovative idea itself that led to the company winning the Best Tourism Startup prize. However, the feedback from users and the growth of the business also illustrate that the company chose the right path to take. "We have equipped our cars with technology that makes us unique in the world", said the CEO to Energiser.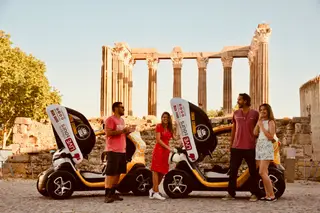 Live Electric Tours began operating in Lisbon with five cars in 2017, and now boasts a fleet of 16 vehicles. This increased supply resulted in the company branching out to other cities, more specifically, Evora in June and Porto in August. According to Djalmo Gomes, the aim is to continue to expand this offer to other Portuguese cities in 2020. The possibility of internationalisation is also being studied. "We are extremely satisfied with the results and the acceptance of the initiative that enables people to get to know the city in a fast and sustainable manner", he underlines.

Prices start at € 20 and vary in accordance with the rental time and the package selected. There are specific tours for children including an app featuring sites and monuments in the form of an interactive game, and others that come with tickets for museums or the oceanarium. Another advantage is that parking in Lisbon is free of charge for all electric vehicles, as decreed by EMEL (Lisbon Mobility and Parking Services Department).