The days are different at the Litoral Alentejano School of Technology (ETLA). The doors to classroom teaching have been closed, and the windows to online classes opened. Students and teachers, each in their own homes, have been connected via computer and the Internet ever since the Covid-19 pandemic forced the world to reinvent itself and to adapt to new norms in day-to-day life.
Geared to vocational education, more specifically to the technological training most required by industries in the Sines region, where it´s based, ETLA has around 240 students spread over the four courses it teaches and was one of the establishments to receive five computers donated by the Galp Foundation to meet the requirements of its most needy students.
The computers the school had for the use of its students were insufficient, so a number of the institution's partner companies, including Galp, decided to "lend a helping hand", points out Eduardo Bandeira, director of this Sines-based institution, "by donating equipment for this purpose".
This initiative is an essential factor in guaranteeing these young people are able to continue their studies, as is the case of Samuel, who is in the first year of the industrial maintenance course. He enrolled on the advice of a friend, with no idea of what it was all about, and he was enjoying the experience when he was suddenly surprised by the "quarantine" measures and the change from traditional classroom teaching to the incognito of distance learning, with the additional challenge of not having a computer. At the start he managed to overcome these difficulties with the help of colleagues, but this solution was only temporary.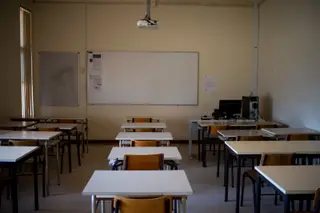 When I heard I was going to have a computer at my disposal to enable me to continue studying at home without any hitches, I couldn't have been happier. "This computer enables me to do the work selected by the teachers, helps me never to be late with modules and to finish everything on time", says Samuel, 17 years-of-age, a fan of this new teaching method, as "the workload is less, and that makes it easier", he concludes.
In-person classes are expected to return next academic year. The recently-delivered equipment will continue to be an asset for the school´s workshops and laboratories. "The school doesn´t have the means to invest in this type of resources, so this kind of donation is essential assistance for us. Without it, we wouldn´t be able to show students how the industry works and how it deals with their challenges and needs", concludes Eduardo Bandeira.