The Covid-19 pandemic has completely changed everyone's reality and school is no exception. At a crucial time when cases of infection are on the rise and the school year is beginning, the teacher Cristina Simões, a finalist in the Global Teacher Prize 2020 with her project on the quality of life of disabled students, emphasises that, even so, she is hoping for "Calm and tranquility in relation to decision-making and, above all, plenty of human warmth", despite the social distancing measures in force.
These are words of hope at a time of great uncertainty and challenges, particularly for students with special educational needs to whom this teacher from Tondela (Viseu) has dedicated her entire teaching and research life. "Many of these students have lost both their academic and functional learning activities in the last few months, in addition to seeing their well-being compromised", she explains to Energiser.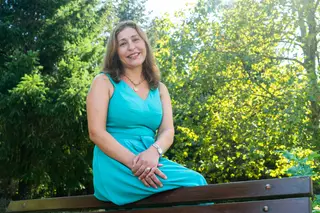 With regard to education in Portugal, Cristina Simões points out that the country has made major progress towards positive changes in teaching, more specifically through the curriculum autonomy and flexibility project implemented in 2018. "I think this project will promote a series of changes in the Portuguese educational system", stresses the teacher for whom the inclusion of all students, regardless of their characteristics, is the basis to ensure they enjoy a good quality of life. "Inclusive education enables us to operationalise a student´s profile on leaving compulsory education with a view to their independence, participation in society and well-being", she argues.
IN THE RACE FOR THE "NOBEL OF EDUCATION"
The Global Teacher Prize, also known as the "Nobel of Education", is a project promoted internationally by the Varkey Foundation since 2014 and which reaches 120 countries. In Portugal, this initiative, backed by the Galp Foundation, is aimed at all teachers exercising the profession, from pre-school to the 12th year of schooling, and elects an "exceptional" teacher whose work has stood out due to the innovative practices used every year.
As far as finalist Cristina Simões is concerned, being a teacher is a mission, and this unique initiative brings all the efforts teachers from all over the world dedicate to their profession to the public eye. "This award enables us to disclose incredible work carried out by amazing teachers and I can only thank the national Global Teacher Prize and Galp for having believed in me and my project on students' quality of life, in addition to the international Global Teacher Prize that placed me in the 'top 50' among 12,000 applications registered worldwide. I feel proud and honoured", she says.
Whatever the result, which this year, exceptionally, will only be announced in December due to the pandemic, this Special Education teacher will continue to do what she has always done in recent years: to fight for the right of disabled students to quality of life.