Debating the energy challenge in smart cities was one of the topics of the Portugal Smart Cities Summit, held recently at FIL in Lisbon. Teresa Abecasis was one of the speakers, and she believes that the only way of overcoming the challenge of climate change will be to work together. This work in smart cities will need to be conducted with the support of both public and private entities and society itself", said the Galp commercial executive.
On the last day of the conference, Teresa Abecasis shared the stage with José Basílio Simões, from Cleanwatts, who defended speeding up energy transition, especially in the electricity sector, in addition to investment in consumer literacy. The Galp executive was in full agreement and reinforced the company's commitment to this issue. "We are totally dedicated to energy transition".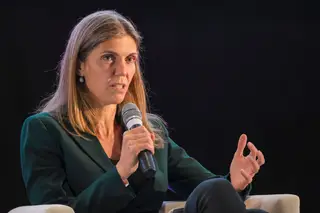 Teresa Abecasis recalls Galp's recent announcement on withdrawing from the oil business in January 2022, and the work the energy corporation is conducting in the development of green energy. "We are leaders in the production of solar generated electricity and forerunners in the installation of ultra-fast electric chargers, essential for the massification of electric mobility", she explains. The executive is of the opinion that using an electric car "mustn´t turn into a nightmare", and as such the company aims to install 1,000 charging points by the end of the year and 10,000 by 2025. "This is a complex ecosystem in which data is of paramount importance and, therefore, we are investing in technology companies such as Flow and EI - Energia Independente", she stresses.
However, "switching to clean energy" is not enough to create smart cities in itself, declares José Basílio Simões. Teresa Abecasis agrees, adding that sustainability is a major factor in several areas, but that the most important thing "is to actually make it happen". The executive believes that there is an increasing willingness to invest in sustainable solutions, especially during the pandemic, and acknowledges that the Government has some "good ideas on the table". It is true to say, she argues, that almost everyone is now aware that energy transition, decarbonisation and energy efficiency are the answers to our problems and that "simple things can be important and make a difference in terms of efficiency".