Innovating as a means of speeding up energy transition is the mission Galp undertook on implementing the strategy geared to reducing the organisation´s CO2 emissions by 40% by 2030 and to achieving carbon neutrality in all products by 2050. "Innovation will speed up the energy transition process, reason for which we have challenged all our internal business units to find concrete solutions in partnership with the different external players to help us meet these goals", explains Ana Casaca, director of innovation at Galp.
The size of the Galp delegation at the Web Summit – the biggest ever – is a telling reflection of this strategy, which includes opening up the market in order to conduct joint work on the development of solutions for a new energy system based on renewable sources. Green hydrogen and lithium batteries are some of the areas in which the company intends to invest, starting in 2022, when it will definitively withdraw from the oil prospecting business. "We have to be here, and we want to be here", says the director of innovation, who reveals the interest shown both by the start-ups and large-scale companies that visited the energy corporation´s stand over the four days of the Web Summit. "We want to open the doors to all start-ups, to all innovation ecosystems to challenge us to find solutions to enable us to achieve a carbon-neutral world by 2050", she says.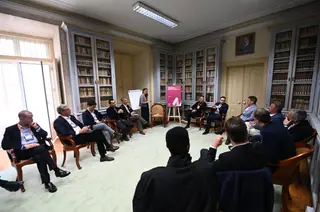 The Web Summit also served as the stage for the launch of two acceleration programmes and the open innovation platform Upcoming Energies – Galp's 'innovation factory' – and "for extremely positive discussions" held with potential partners, Ana Casaca points out. Next year, she hopes, "we expect to be here with a series of start-ups, a series of projects and partnerships entered into with universities, with other corporate entities, and to unveil projects related to the hydrogen value chain, the lithium value chain and renewable energy".
Upcoming Energies will also serve to boost and catalyse existing programmes such as pilots projects, between Lisbon and Rio de Janeiro, in Brazil. "We are going to bridge the gap between these two cities, promoting our innovation projects to carry out cross-border and trans-Atlantic pilots", says Ana Casaca. The goal will always be to seek out global solutions, but this Atlantic connection is, she reveals, "an opportunity that we believe, through the channels we have with both customers and suppliers, in addition to our innovation ecosystem, will make a difference and really ramp up the results of our innovation ecosystem".