Galp, in partnership with Instituto Superior de Agronomia da Universidade de Lisboa (ISA), is conducting a pilot study on photovoltaic panels at Tapada da Ajuda vineyards in Lisbon, as part of a new sustainable approach to viticulture
Renewable energies such as photovoltaic (PV) solar and wind power are expanding rapidly. According to Emilien Simonot, the Head of Renewables & Energy Management Innovation Center, "they are essential for the decarbonisation of energy production systems and the economy, in addition to serving as a solution for the current energy price crisis".
SOLUTION FOR THE MEDITERRANEAN REGION
Solar panels are a common sight on the roofs of houses and in fields today and there is an increasing trend towards the multiple use of the land, using what are known as agrovoltaic systems to combine energy generation and agricultural production in the same place.
"Convinced that these solutions are beneficial to society, Galp is now one of the biggest operators of photovoltaic solar assets in the Iberian Peninsula and one of the leading companies in agrovoltaic projects", declares Emilien Simonot. He also says that cooperation is essential in order to develop the best equipment and the right techniques for the best possible integration of agriculture with photovoltaic solar energy. Hence, Galp is actively connected and shares data with similar projects being executed in France, Italy, Spain, Germany and the Netherlands. "Some of them have been in operation for a few years now and we are benefitting from the knowledge they have already produced; others, such as the one to be developed in Lisbon, are just getting started", he tells us. The Agrovoltaic project to be conducted at ISA is called "Vinum Solis", which translates to "Wine of the Sun" in Latin.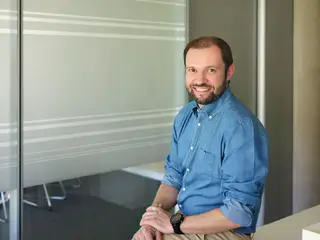 According to Carlos Lopes, professor of Viticulture at ISA, this project arose from direct talks between Galp and the institution. "Coincidentally, I had just come back from a vineyard and winemaking equipment trade fair held in Montpellier, France, where I had been in touch with a company involved in this type of tests", reveals the professor, adding that "I was already curious with regard to how this type of technology could benefit grape and wine production in Portugal, a warmer Mediterranean country". As such, "Galp's invitation provided us, researchers and professors, with a window of opportunity to test an adaptation measure to climate change with a good chance of being a success".
REDUCING RADIATION
The most important part of this pilot project "is the testing of a technology with the potential to be used as an adaptation measure to climate change in the wine production sector", adds Carlos Lopes, pointing out that the panels will also be used to produce energy to supply part of the electricity demand at ISA. The idea is that partially or totally covering a vineyard with solar panels should help reduce the levels of radiation to which the plants are exposed, giving rise to positive responses with regard to vegetative and reproductive development and the quality of the grapes and wine, thereby demonstrating that this technology enables us to attenuate some of the negative consequences of climate change.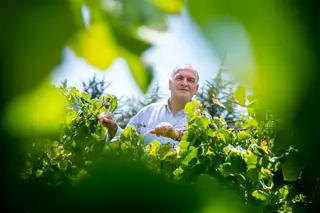 This reduction in radiation should reduce the light and heat stress suffered by the plants in the summer, "generating more favourable conditions from a physiological point of view, with regard to photosynthesis, for example, while evapotranspiration will be reduced and, with it, the consumption of water, an increasingly scarce commodity, by the plant", he explained. The process is expected to have positive consequences in terms of grape maturation, the preservation of aromas and total acidity, thereby enhancing the quality of the wine. "These are some of the potential advantages of using this technology", says Carlos Lopes. Of course, this is all still hypothetical, and everything will be tested in the pilot project. "It will be conducted over a three-year period, as we are dealing with a perennial crop and we won´t be able to obtain any answers by testing for just one year", added the professor, who hopes that the tests will be extended to other varieties if the results of this experiment are positive.