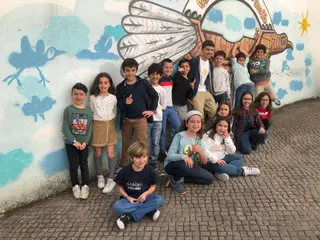 Kiko Maria, Road racer sponsored by Galp, joined the volunteers of this edition of the Educational Movement, and taught a class about energy and responsible consumption to 28 children of school EB1 nº 72 Bartolomeu de Gusmão. Among the questions from the younger ones, the main curiosity was about the topics of sustainability, a word which is already very familiar to the younger generations, but also about the sport the young athlete practices and which ensured the empathy of the audience from the beginning.
A young national motorcycling prodigy, the 15-year-old showed that age is just a number when it comes to setting an example. "I am a racer, but I never forget the place where we are now, school. It is very important for me to always have a plan B for my future, and school is essential."
Last October, Kiko was crowned Pre-Moto 3 national champion at the Estoril Circuit, once again confirming to be a steady prodigy of national motorcycling. The young racer returns to the classroom on 11th March for another class about energy, responsible consumption and some sports curiosities.
The Educational Movement of the Galp Foundation aims to promote social inclusion through education, citizenship and entrepreneurship for the protection of biodiversity and responsible consumption. The Programme entails a final competition, the Energy Bootcamp, in which students seek funding for projects with a potential positive impact on schools and communities, therefore developing their own communities.
The areas in competition at the Energy Bootcamp are biodiversity, protection of the oceans, efficient energy consumption, mobility and digital transformation.
So far this year, over 200 energy classes have already visited 1,000 schools and reached over 50,000 students. To join this Movement, all you need to do is send an email to movimentoeducativo@galp.com. Learn more about the Programme here.