The quote belongs to Mariana Duarte, who is in the group of 28 young people in the Galp Mentors Programme, whose sessions, which used to take place face-to-face every Wednesday in the Lisbon Towers, are now taking place digitally. At a time when, like many other structures and systems, school education in Portugal is being carried out from home, and the third school period has kicked off with remote classes, it is estimated that more than 50 thousand students don't have a computer or Internet access, which severely hinders their school performance and the development of their academic career.
Since the coronavirus first appeared in Portugal, Galp and its Foundation have been responding to requests for support from various areas and systems, including the distribution of computers to students in unfavourable economic situations. Considering it crucial to encourage children and young people to continue their studies in an unprecedented and extremely challenging context, so that they can adapt to this new reality, providing computers for them is essential.
The young people took this moment to thank their mentors, as well as Galp and its Foundation, for the educational support they continue to provide, and for allowing them follow the classes more easily in this context of pandemic.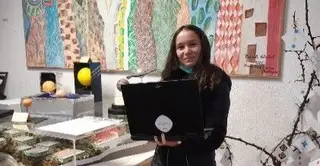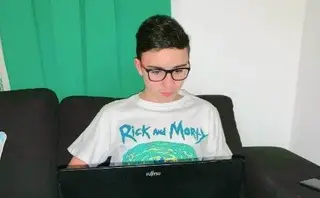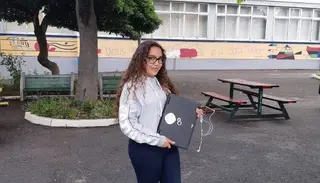 Subtitle: Mentors continue tutoring remotely
The offer of computers to students who didn't have one facilitated this connection, which continued even in the context of the pandemic. At home, and through online networks and systems such as Teams or Whatsapp, young people can continue to be tutored and the mentors continue to monitor their academic career.
Thus, mentors and students from the EPIS Programme are still able to attend their classes and they feel it is working well. JoaquimMarques, Business Assistant in the area of Information management and Reporting, tutors 9th grade Math and mentions that "the systems helped a lot and it was a productive day, with plenty of effort from Arthur. The session started at the scheduled time and the interaction works well".
Laura Carvoeiro, Trainee in the 4.0 Industry Center of Excellence in the IT & Digital Department, his tutoring colleague, adds that it's been easy to reorganise the tutoring sessions online and praises his student, stating that the young student "is a very dedicated kid, which always makes the tutoring easier. At the moment, we have tutoring sessions scheduled for every Wednesday morning, alternating every week between me and Joaquim, like we did in the Towers".
With the young people's school schedule as busy or even busier than usual, there are other groups that choose to offer their availability in a way that would fit into everyone's schedules. In such a peculiar situation for everyone, and such challenging times, as she calls them, Beatriz Forte – Commercial Specialist in the Upstream Commercial area, who tutors 9th grade Math to Alexandra Duarte, one of the students who received a computer – shares what this entire adaptation stage has been like:
"We are living in challenging times, times of change, of adaptation to a reality that is not ours, but that we had to react to and act accordingly. The social responsibility spoke louder and we had to restructure all of our routines and dynamics and replace them with new ways to be present.
It is due to this never-ending will to continue these small moments of "give and take" that we keep providing our tutoring sessions to Alexandra. Our collective restaurant has moved to the small computer and mobile phone screens. However, without the possibility of making video-calls, we had to find alternative ways to keep providing as much support as possible. We found a compromise and gave further use to whatsapp, where doubts and questions are exchanged in message, video or image format. Despite the absence of face-to-face communication, which is so important in this dynamic, we decided not to give up, and to remain present".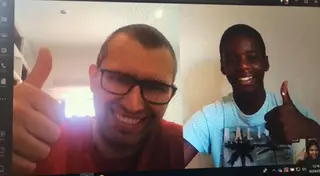 Abílio Ribeiro, who continues sharing his knowledge with Miguel Tavares, who he tutors in 8th grade English, feels the same way as the other mentors about the uncertainties and changing times, and adds the responsibility of balancing teleworking with his children's education in place of the kindergarten and school.
On the other hand, he praises the actions Galp has conducted in terms of its quick response to the emergency, for its employees and society in general, and he finishes by stating that continuing tutoring is just "doing his part", considering it "crucial at this time, since we are all in the same boat and there will always be room for the things that really drive us".