In a time of pandemic, the Internet is one of the most important tools for everyone who is required to stay at home, both for remote working and for entertaining children and ensuring they continue with their studies. It is therefore essential that the networks dealing with all the traffic have the sufficient capacity and are operational for everyone. However, the unprecedented volume of use at this time requires additional care in relation to both the use of the Internet and the management of equipment (PCs, smartphones, tablets, etc.).
Concerned about guaranteeing the continuity of their services, the three main national operators have reinforced the capacity of their networks, conducted in accordance with the geographic region in which users are concentrated. Moreover, NOS, Vodafone and Meo have called for responsible use in order to prevent congestion that might undermine electronic communications services that are essential for interpersonal communications (voice and SMS), teaching and remote work.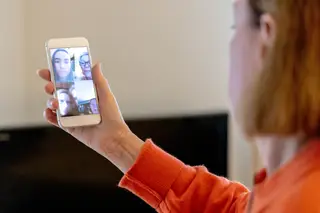 Recommended good practices include the preferential use of the fixed Internet at home (wi-fi) on a mobile phone, computer, tablet or console to ensure data networks are free for other types of use, and avoiding large volumes of traffic caused by downloading videos, films, series or games of a large size or high quality. Viewing this type of content in maximum quality (HD or 4K) and on several devices at the same time should also be avoided. Operators also recommend, whenever possible, the use of the offline mode and the intensive use of the network in post-work hours (between 6 p.m. and 9 a.m.).
---
PREVENTING THE COLLAPSE OF NETWORKS IS VITAL
One of the measures included in the declaration of the state of emergency, in force since 18 March, is the possibility of limiting or even blocking video streaming services such as Netflix, HBO and others, as well as the repeat, skip and record functions for TV shows.
This decision was taken by the Government with a view to ensuring the availability of data and Internet networks for critical State services, but also to guarantee the entire population constant access. However, at the European level, the European Union (EU) is also asking streaming companies to reduce the resolution of their content in order to prevent a general collapse of networks. Netflix has already complied with the request, declaring that "it is adjusting the quality of the image to the network capacity available and is using a special delivery network to provide its users with closer access to its video library as a means of consuming less bandwidth". Mark Zuckerberg has also announced that he is aware of this 'peak' in use and that Facebook is managing an unprecedented volume in the best possible manner to ensure the social network doesn´t collapse. The same goes for Apple, Disney, Instagram and YouTube.