24 February 2022. Russia invades Ukraine, dragging the two countries – and the world – into an armed conflict with no end in sight. As a result, and according to the most recent assessment conducted by the Office of the United Nations High Commissioner for Refugees, around 15 million Ukrainians have been forced to flee the war that is destroying their country and dreams in search of survival. More than 55,000 Ukrainian refugees have arrived in Portugal to date.
Galp, committed to the well-being of communities, has been helping these people settle in our country and find a new purpose in life since last April, and has created a special employability programme for them, the Galp Integration Programme (GIP), which, in partnership with the Institute of Employment and Vocational Training (IEFP), the High Commission for Migration (ACM), the Embassy of Ukraine and various associations, provides them with a career opportunity in their area of expertise, thereby enabling them to continue to pursue their professional career in spite of all the difficulties they are facing.
"We believe that large-scale companies should play a major role in the creation of a better society. And as a large-scale company, we are permanently committed to this cause, regardless of the circumstances", highlights Teresa Abecasis, Chief Operating Officer (COO) Commercial at Galp.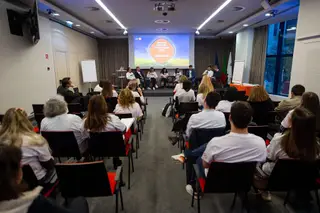 The programme, which admitted 17 participants in 2022, consists of a 12-month vocational internship (6 + 6 flexible months) and includes a monthly stipend, a meal subsidy and health insurance for the intern´s family (spouse and children), in addition to a financial package to promote social integration for finding and renting a home.
In parallel, and as a means of facilitating this reception process, Galp organised a training day involving dozens of participants, including managers from various areas and "buddies", addressing topics such as the preparation of Galp teams for the reception of refugees, intercultural training, the preparation of "buddies" for the exercise of their role as voluntary tutors in the integration of refugees, as well as sessions geared to providing trainees with information and guidance on matters such as access to credit, the Portuguese tax system, healthcare, citizenship and others. English and Portuguese classes were also given.
ACTIONS WITH AN IMPACT
The impact of these actions was positive, with 40% of the trainees regarding themselves as integrated and respected in Portugal; 66% of the people recruited by Galp say they have developed a sense of belonging to the company, to which the language training classes and onboarding sessions have contributed significantly (80%).
This is attested to by Oleg Popik, currently working as an intern in the Quality department: "The integration process was the best I've ever experienced in my life. Every phase was designed down to the smallest details, including the layout of the workplace, the information support and the attitude of the teams, who create such an amazing atmosphere right from day one, thereby ensuring we feel comfortable, safe and engaged in the day to day of the business. It was exactly what I needed at that time".
"The integration process was the best I've ever experienced in my life"
Oleg began his career at Galp last November. An important part of this integration was performed by the HSSEQ manager and team working with him. "In my opinion, the manager plays a significant role in the professional adaptation of trainees. In my case, a personalised integration plan was drawn up, including a detailed schedule for the different initiatives, consisting of visits to Galp Business Units, such as the Sines Refinery, the Matosinhos Logistics Park and others. This option enabled me to gain a better understanding of not only the organisation of internal processes, but of how the industry works in general, in addition to certain national legislative, social and cultural aspects."I view this as a great opportunity to enhance my professional skills and to be useful to my team and our projects. Working at Galp has changed both my life and that of my family. We feel safe and secure, I´m happy to be part of this company, and I will be eternally grateful for the opportunity I´ve been given", he says.
A POSITIVE BALANCE IN THE OPINION OF EMPLOYEES TOO
At the time it was created, the Galp Integration programme (GIP), a brand-new initiative at Galp, was based on a series of concerns of both a linguistic and cultural nature and demanded adaptation on the part of the employees that opened up their hearts to the initiative right from the beginning: "We wanted to create a format that, in addition to professional integration, went a step further and provided additional support to trainees in the management of their day-to-day work, both at the company and in Portuguese society in general. Our buddies were incredible, going beyond their role as facilitators – we have examples of buddies that made a point of getting to know the trainees' families, while serving as a point of reference in the integration process both within and outside Galp", says Maria de Jesus Pereira from the Human Resources Department.
Furthermore, the emotional involvement in this process has been considerable. "The relations we´ve established with this group of people have shown us just how volatile reality is and that nothing can be taken for granted. Some of the things they told us they have had to endure made us shudder from an emotional point of view. It was a huge lesson in humility and gratitude".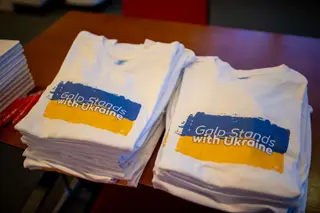 According to Ana Margarida Lima, a manager in the Business Services area of Energy Management, "my trainees have integrated with their teams perfectly, despite the language barrier, which has been overcome with the help of everyone. The team also ended up learning a lot about adaptation. I believe it is important to integrate these people, we feel that we´re on the right side, helping people that were leading a normal life in their country and were suddenly left with nothing overnight. Being able to make a difference to someone's life is gratifying, however small that difference may be".
STUDY SCHOLARSHIPS ENABLE 25 YOUNG PEOPLE TO GO TO UNIVERSITY
The Galp Scholarship Programme aims to support students from areas of conflict wishing to pursue a course of higher education in Portugal. Implemented in the academic year 2022/2023, the programme has 25 students (mostly Ukrainians) enrolled in undergraduate and Master's degrees at various academic institutions and funds of 500,000 euros.
To implement this project, the Galp Foundation works with partners such as Nexus 3.0, an NGO focused on promoting education, science, art and culture in scenarios of vulnerability, conflict and violence, and which plays the role of facilitator, establishing bridges between the main stakeholders involved. "This partnership arose from a contest of wills and fervent complementary goals between Galp and Nexus 3.0. It was signed in June last year and we launched the online competition for the selection of scholarship candidates in record time. At the same time, agreements were also entered into with five institutions of higher education, partners in this project, and which welcomed the scholarship holders", explains Helena Barroco, co-founder of this Lisbon-based NGO.
Moreover, she says, these programmes have an incredible impact on the lives of young people and on their families and communities. "They are like a star shining in the desolate darkness of a country at war, as a student once told me. Indeed, it´s as if there were a spark of hope at the end of the tunnel. I am in no doubt that access to higher education in a situation of war or a humanitarian crisis completely changes the perception of the present and the perspective of the future of these young people, who, by returning to academic life, recover some of the normality of their lives and feel more secure and protected", she concludes.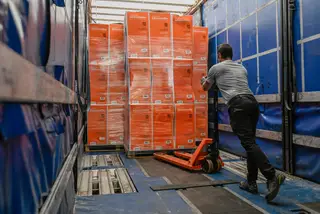 This is the case of 33-year-old Yulia, enrolled in an MBA degree to pursue her dream of becoming "Head of Marketing". "I applied for a scholarship to further my career and to keep going forward. It was an opportunity she couldn't miss. This scholarship helps me explore the local market and opportunities in changing times. I hope that one day I can contribute to the development of economic relations between Portugal and Ukraine, thereby helping both countries to grow. I am very grateful to all the people that are sponsoring my studies and helping the Ukrainian people that are so far away from their families in these difficult times".
A WIDE-RANGING MISSION
Both the trainee and scholarship programmes are part of a broader humanitarian package that Galp has been developing and which includes other initiatives. In one year the company impacted the lives of more than 500,000 people.
"We believe that the relentless defence of Freedom, Dignity and Human Rights is priceless", says the COO. As such, the company structured the mission to support Ukraine with a total budget of 6.5 million euros, based on three lines of action:
International aid to the institutions coordinating the humanitarian response on the ground, such as the International Red Cross, UNICEF, the Portuguese and Spanish Red Cross and AMI;
Support in the form of energy and goods to the Refugee Centres and Rescue Flights in Portugal and Spain, providing aviation fuel for 10 humanitarian flights that brought 2,306 people in need of help to our country, in addition to energy for reception centres, with the provision of fuel for their logistics operations and heaters, essential goods and welcome kits. These initiatives involved 115 Galp volunteers;
The integration of refugees with the launch of the Galp Integration Programme and the Galp Scholarship Programme.
"Unfortunately", adds Teresa Abecasis, "the conflict rages on and Galp will continue to be attentive and respond to needs, working alongside the entities entrusted with the provision of humanitarian support. For example, at the beginning of this year, in partnership with the Cascais City Council and the Ukrainian Embassy, we undertook a commitment to send 1,650 heaters to Ukraine, seeking to help the Ukrainian people and provide them with a little more comfort in these particularly difficult times".
Galp believes that both qualified jobs and access to good education are the best way of helping to create the future of Ukraine, which, a year after the invasion, continues to fight for freedom. In addition to the direct impact on the lives of new employees and scholarship holders, both programmes also fostered a spirit of mutual assistance and a sense of belonging in all those involved.