Miguel Gomes is deaf and is used to taking care of the vegetable garden and the animals in the farmyard of the Deaf Association of the Island of São Miguel (ASISM). He likes doing what most people do in their free time, such as hanging out with friends or simply staying at home and resting. But this year was different. Challenged to participate in the Som Sim Zero musical project, he agreed to leave his comfort zone to embrace the adventure of learning, rehearsing and being part of a band made up of members who are both normal hearers and deaf. The experience changed his routine, and despite the world of silence in which he is immersed, Miguel can feel the music throbbing inside him, with its vibrations, beats and rhythms, to the point that he now wants to become a DJ.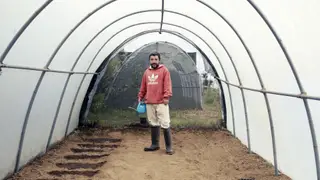 This is the story of one of the most recent members to join the orchestra that explores the limits of sound, words, music and language in this art known for changing people´s lives and touching their hearts.
A TRANSFORMATIVE PIONEERING PROJECT
It was five years ago that the artistic group ondamarela developed a pioneering social inclusion project in partnership with the Rabo de Peixe School of Music and ASISM, an initiative that has been backed by the Galp Foundation from the very beginning. Exploring the relationship of the deaf with sound and space, this project aims to raise society's awareness of the issue of deafness while demystifying the way in which these people experience music, showing that they can do so on an equal footing with normal hearers.
Interest was somewhat muted to begin with, but the group quickly expanded, with new members joining this fine initiative created in 2019, and which soon gained widespread recognition. In 2022, Som Sim Zero set off from the island to play and delight the crowds at Rock in Rio Lisbon.