Resilience is one of the words that figured in the Portuguese lexicon throughout the pandemic, applied to the ability of the Portuguese National Health Service (SNS) to respond to Covid-19, of companies to deal with the constraints of closures, confinement and other difficulties, and to the economy as well. As far as Teresa Abecasis is concerned, "we need to ensure the economy is resilient to the different kinds of impacts", she said while attending the 21st Executive Digest Conference, held recently at Museu do Oriente, in Lisbon. In her opinion, this challenge already existed, but there is a greater need to find solutions at this point in time due to the scenario we´re living in.
PEOPLE AT THE CORE
Teresa Abecasis believes that being attentive to people is essential in the wake of Covid. "We really have to see what has changed in the way people view the world, as they have spent two years in a totally different reality". Moreover, she argues, this reality has created a set of new challenges for both people and companies. "People have discovered things they didn't know about, many don't want to go back to the office; they want to keep the independence they gained in the pandemic period".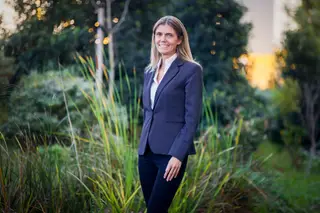 On the business side, the challenge of cohesion is one of the priorities in the times we´re experiencing. The reinforcement of team culture and spirit will be essential in order to keep people motivated and to retain talent. "I believe that the challenge of talent is one of the most pertinent in post-Covid times, as we now need people capable of speeding up the process of transformation and transition more than ever before", emphasises Teresa Abecasis.
The reassignment of talent is another important measure companies should be aware of, as someone who has no motivation in what they do may be far more effective in another area. A perfect example, says the Galp director, are women in technology: all the statistics illustrate that girls of over 15 years of age often drop science, mathematics and technology because they prefer to choose other areas. "This is a huge waste and 80% of these professions end up in the hands of men. However, we know there is plenty of potential here and if we could manage to balance this out, we would have an enormous pool of talent for the areas of science and technology".
"The challenge of talent is one of the most pertinent in post-Covid times, as we now need people capable of speeding up the process of transformation and transition more than ever before"
This shortage of talent for critical areas is a problem in Portugal and is another major challenge highlighted by Teresa Abecasis. "Nevertheless, Portugal has really good things that need to be worked on in a more proactive and assertive manner". She highlights our country´s advantages of comfort, safety and centrality in relation to the world. "We can offer these assets to international talent to help persuade them to settle in Portugal. And communication barriers no longer exist, making it possible to work with multidisciplinary teams anywhere in the world, based in Portugal".
In the view of the Galp director, what Portugal basically needs to do is to take advantage of these strengths as a means of enhancing people´s skills and qualifications, improving the entire structure and the entire public administrative system, and the way in which companies operate, in order to create more value.



THE IMPORTANCE OF LEADERSHIP, AND THE EXAMPLE OF GALP
Leadership is essential to a successful human resources strategy. The people strategy at Galp, highlights Teresa Abecasis, was recently redefined and is based on several strategic pillars that are being worked on and launched at the company. Leadership is one of these pillars, as "leaders have enormous responsibility and need to know how to implement this responsibility with their personnel and, as such, we are investing heavily in this area, in empowering our leaders to enable them to help their personnel to develop, to establish the right priorities, to plot a course, and to get people to follow them in these work enhancement processes".
A second pillar, which is also being worked on intensively at Galp, is culture. "We want to be a company that promotes change; we want to be game changers. Looking to the future and starting to act now", concludes Teresa Abecasis.