Conflicting ideas and perspectives are an asset that needs to be cultivated and kept at the heart of organisations, which need to be more inclusive, empathetic and compliant with their vision and ethical principles in the future. These were some of the main ideas put forward at the debate held at the Grand Annual Meeting of the Professional Women's Network Lisbon (PWN Lisbon).
CONFLICTING IDEAS
Ana Silveira, Head of External Relations & Regulation at Galp, believes that diversity enhances an organisation´s performance. In an interview after the debate held under the theme "Synergies for Diversity", she argued that the wealth generated by conflicting ideas and perspectives among different teams "arises largely from the differences in members´ views" due to their social and cultural origins, their experience and the way in which they have been educated and trained. "As such, the richer and more diverse the organisation, the greater its potential for a successful economic and financial performance", she reasoned. She also predicted that companies are sure to find ways of ensuring their selection and recruitment processes are more inclusive in the future, "not in the sense of defining quotas in relation to sex, gender or geographic origin, but geared to choosing the best candidates, in the way that symphony orchestras recruit their musicians". Ana Silveira explained that this process has a curtain separating the recruitment team and the candidate musicians, as what really matters is their performance. Moreover, she said she is convinced that companies will implement criteria aimed at the diversification of their selection and recruitment processes in the future, as this will make them better provided for and increasingly sustainable, empathetic and efficient.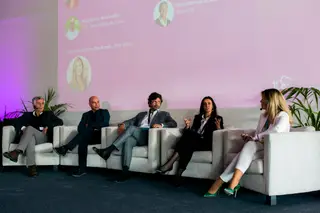 Pedro Norton de Matos, a mentor and organiser of Greenfest, argued during the debate that "the great leaps of mankind are conducted based on cooperation". Between people, companies and/or states, as happened recently with the race to find vaccines against Covid-19, in a process that was faster and more efficient than ever before and which, fortunately, was successful. The number of lives that have been and will be saved attests to this, although the future still remains uncertain. And it is important we think about this, argued Pedro Soeiro de Carvalho, executive director of the University of Lisbon MBA Higher Institute of Economics and Management, not least due to the fact this is an increasingly complex and ambiguous issue. Therefore, and as explained by Miguel Eiras Antunes, the global Smart Cities, Smart Nation & Local Government leader at Deloitte, it is of paramount importance that organisations and their personnel really know where they intend to go before they set off down the path. Pedro Norton de Matos believes that people need to think less about themselves and more about their role as part of the bigger picture, which includes other human beings, as this is the best way to move forward along the best path and in the right direction. "Human beings need to invest more in sustainability and diversity, essential factors in their future", he explained.
GOOD PLANNING
However, for this to happen in Portugal and in the world as a whole, there needs to be planning. Particularly with regard to cities, in which a significant slice of the human race lives today. "Cities are home to 50% of people and account for 80% of the world's GDP and 75% of greenhouse gas emissions", said Miguel Eiras Antunes, explaining that societies were basically planned by men and for men in the 35 to 50 year old age group. "This has to change", he said, emphasising that the future of urban areas needs to be greener and more inclusive, enabling the young and the elderly to contribute to the local economy. According to Miguel Eiras Antunes, this is the reason why Australia is committed to becoming more inclusive, adding that the country´s GDP is expected to increase 1% when the goals they intend to implement have been met.