Dealing with the challenges of energy transition, adapting the portfolio, preparing teams and strengthening relationships with stakeholders are cogs in the wheel which, in Galp's machine, are part of an ongoing process of change. "These are the pillars of the strategy that has begun to be worked on internally, in a transversal manner", explains Nuno Pedras. Galp's Chief Information & Digital Officer (CIDO) attended the Tech4Good conference – How can Technology Serve the Common Good? –, at which he shared the stage with managers from a group of companies that are currently focusing on the digital transformation of their businesses in a sustainable manner. Madalena Tomé, from SIBS, João Nascimento, from EDP, and Tiago Barroso, from NTT Data shared experiences related to the paths their companies have taken.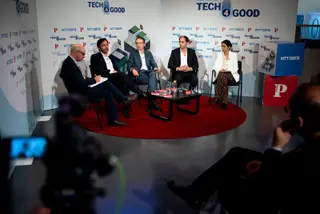 Galp has revised its slogan 'Let's regenerate the future together', which is consolidated in the transformation of the company´s portfolio, the renewal of internal and external relations, in addition to reinforcing and investing more in its people, and is thereby paving the way to being able to adapt to the future. In particular, a future based on more sustainable solutions and business models designed to promote the decarbonisation of the economy, the central theme of this conversation held at the Jornal Público Auditorium in Alcântara.
As far as Nuno Pedras is concerned, a strategy focused on sustainability goes hand in hand with keeping a permanent eye on the business and analysing its impact. The CIDO believes we need to "look at the organisation itself, at its internal processes and everything that supports them: systems, ways of working, the corporate culture, the people". Because for a company such as Galp to be consistent, and indeed sustainable, it needs to adapt, change, optimise processes, systems and ways of working in order to deliver sustainable value.
Preparing the organisation from the inside out
Change is never easy and doesn't happen overnight. It´s more like a journey that wouldn´t be possible without willing, well-trained people. In the opinion of Nuno Pedras, a sustainable strategy, in addition to financial value, needs to deliver social value to people, and environmental value. To this end, we need to foresee the risks inherent to our operations, maximise opportunities and create solid relationships with stakeholders, employees, customers, shareholders and partners.
Moreover, we need to focus on a fundamental pillar of transformation: the role of technological innovation in reducing waste and in obtaining results in a faster and more agile manner, culminating in the optimisation of resources.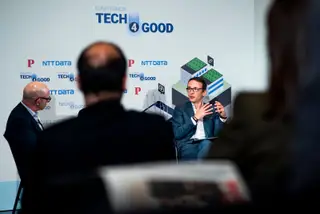 As far as the CIDO is concerned, technological innovation and sustainability are areas that go hand in hand. "When we talk about the reuse of systems, changes in work management, the use of Artificial Intelligence, these are all changes that technology enables us to implement in companies, and without which we wouldn´t be able to achieve our goal, that being the sustainability of our activities for the business, for the environment and for people".
Galp have already implemented numerous projects consisting of a continuous effort towards the predictive management of their business and operations. The company has been optimising the mechanisms that enable us to gather and analyse essential data for strategic decision-making in the business, in an increasingly streamlined manner, whereby informed decisions are more and more focused on creating value and reducing waste.
Nuno Pedras underlines the fact that one of the key elements of the energy company´s technology strategy is being 'data driven', or in other words, placing data at the core of decision-making. "As such, we have created a data hub to store all the company's data, and that enables Galp employees to use certified, quality data on a self-service basis for the preparation of reports or the creation of analytical models".
The CIDO is of the belief that basing decisions on data has a huge impact on organisations, but that it is also a journey that requires maturity, adaptability and talent. In order to consolidate this journey, Galp has taken a path towards sound digital literacy, focused not only on technology and data, but also on literacy for the transition as a whole. As Nuno Pedras emphasises, "we need to ask ourselves what our role, as Galp, is in this world. And what does the path towards sustainability mean? How we are transforming our business – because we are transforming it completely – and this is all about literacy, it's about our people understanding the why, the how and the when".
Finally, partnerships are, in the opinion of the Galp manager, another essential factor. We are investing in start-ups through a platform designed to promote this collaboration and that, together with technologies and leadership training, can contribute to a more sustainable planet and a more cohesive society from a social and economic point of view".